Review Mamonde Ceramide Intense Cream
Mamonde Ceramide Intense Cream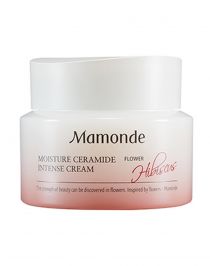 Ceramide Intense Cream provides long-lasting hydration and helps fortify the skin moisture barrier.
Powerful Hibiscus Moisture Barrier
Mamonde's exclusively developed Ceramide PC-104 ingredient and the twice enhanced moisturizing effective ingredients of the hibiscus flower strengthen the skin's batter to deliver moisture to the deepest layers of the skin.
Double-Moisture BarrierTM
The Double Moisture BarrierTM technique reinforces the skin's moisture support to ensure that it retains its deep and comforting moisture over extended periods.
Superior Moisture Barrier from the Foundation
Improves the skin moisture barrier that is easily shattered by fine dust and other harmful environmental factors to create healthy skin that is superior from its very foundation.
Soft and Pleasant Texture
The Lipid Networking System technology delivers a non-sticky, moist formula that gently adheres and forms a comforting moisture barrier that feels no different from your very own skin.
Profil 24 pengguna Mamonde Ceramide Intense Cream yang memberikan review, dapat disajikan dalam chart sebagai berikut: