Review Manyo Factory Natural Treatment Rosehip Whitening Oil
Manyo Factory Natural Treatment Rosehip Whitening Oil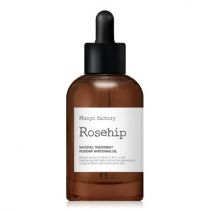 Rosehip oil is an excellent treatment for recovering damaged skin. Natural Treatment Rosehip Whitening Oil promotes skin renewal and healing, effectively helps to get rid of scars, burns, spots, acne, is effective in the treatment of eczema. It is recommended to locally apply the oil onto problem areas or use as a supplement to your existing cosmetic products. Rosehip oil contains omega-3 (30-35%), omega-6 (44-50%), omega-9 (15-20%), as well as vitamins C, E, A, P.
1. Cleanliness and freshness of finely selected ingredients. Use chilean rosehip.
2. Cold-pressed and non-refined oil.
3. Full of luminousity. A bottle (40ml) contains approximately 60,000 rosehip fruits.
4. More moist! Skin-friendly moisturizing care with plant based moisturizing oil complex such as camellia, sunflower, rose, grape, sea buckthorn, jojoba, olive.
5. Assist in fortifying skin barrier with just one drop of rosehip.
6. Surprising effect of deep and rich rose oil from pressing tens of thousands of rare damask rose.
The oil can be used for mixing with basic cosmetics for skin care.
Manyo Factory Organic Rosehip Oil DOES NOT leave oily and sticky film, does not clog pores, completely absorbed by the skin.
Volume: 40 ml.
Skin type: for all skin types.
Properties: hydrates, nourishes, heals inflammation and gives a healthy skin glow effect.
How to use: apply 2-3 drops of oil onto problem areas of the skin after basic skin care.
Ingredients: Rosehip fruit oil (84%), Isoamyl laurate, Caprylic / Capric triglyceride, Sea Buckthorn seed oil, Camellia oil, Jojoba seed oil, Olive oil, Damask rose flower oil, Rose flower oil, Squalane, Grape seed Oil, Sunflower seed oil, Alpha-bisabolol, Tocopherol.
Profil 1 pengguna Manyo Factory Natural Treatment Rosehip Whitening Oil yang memberikan review, dapat disajikan dalam chart sebagai berikut: