Review Masami Shouko Masami Shouko Professional 50 Eye Liner Brush Angled & Flat – Eye liner brush Angled & Flat
Masami Shouko Masami Shouko Professional 50 Eye Liner Brush Angled & Flat – Eye liner brush Angled & Flat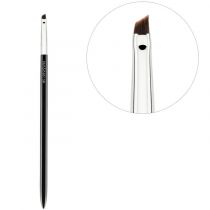 Angled & flat eyeliner brush No. 50 for liquid / gel eyeliner.
Function:
The perfect brush to apply eyeliner. The angled shape makes it easy especially when creating wing / cat-eye look.
Compatible cosmetics: Liquid & Gel Eyeliner.
Bristles:
Natural – Vegan Hair
Size:
3.2 cm x 19.3 cm x 2.1 cm
*Masami only uses pony, squirrel, sable, muskrat & goat hair on their Natural Brushes and we are Animal Cruelty Free.
Profil 1 pengguna Masami Shouko Masami Shouko Professional 50 Eye Liner Brush Angled & Flat – Eye liner brush Angled & Flat yang memberikan review, dapat disajikan dalam chart sebagai berikut: