Review Romand See Through Matte Tint – 06 Burn Wrap
Romand See Through Matte Tint – 06 Burn Wrap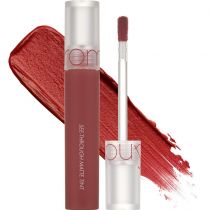 A lip tint that fuses lips with see-through color and a matte finish.
Benefits:
Come with 6 shades of vivid colors with high color payoff and adhesive power for long-lasting sharp lip express.
Watery moisturizing gliding leaves a gorgeous see-through matte finish in just one touch.
How to use:
Apply a moderate amount along the natural edge of the lips using the tip then fill out the inner part fully for a bold look.
Or apply gently from the inner lip to the outer lip line for gradation.
Profil 1 pengguna Romand See Through Matte Tint – 06 Burn Wrap yang memberikan review, dapat disajikan dalam chart sebagai berikut: