Review SECONDATE Instapeach Eyeshadow Palette
SECONDATE Instapeach Eyeshadow Palette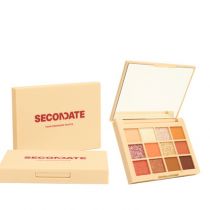 Peaches symbolize happiness.
There's no one else we'd rather share our happiness that we packed in a portable eye shadow palette – than with you.
Instapeach is your playful sidekick to level up your everyday story. We were sure to pack it with a texture combination you won't forget – buttery mattes, pressed glitter, velvet metallics, and micro-glitter shimmers. Set the scene with neutral matte shades, then add a twist with an unexpected Peachy pop of pastel;
and turn heads from across the street with glittery magic.
Your story is always your beauty.
Flesh – matte camel
Peach perfect – matte true peach
Choco peach – matte burnt-peach
Horizon – matte cream beige
Sepia – matte rich chocolate brown
Impeach – matte warm brown
Luscious – velvet metallic violet with blue glitter accent
Suck me – velvet metallic copper
Sunshine – microglitter yellow gold
Hot damn – velvet metallic fire maroon
Butterflies – pressed glitter opals with peach-gold shift
Juicy – microglitter champagne
NO. BPOM INSTAPEACH: NA11201200508
Profil 45 pengguna SECONDATE Instapeach Eyeshadow Palette yang memberikan review, dapat disajikan dalam chart sebagai berikut: